A moving symbol
The Enneagram is an ancient symbol for self-knowledge and personal/spiritual growth. I first encountered it during my spiritual direction training, and in the years since, have engaged deeply in personal work and ongoing relationship with it. I find it to be unendingly useful in my quest to meet myself with care and understanding.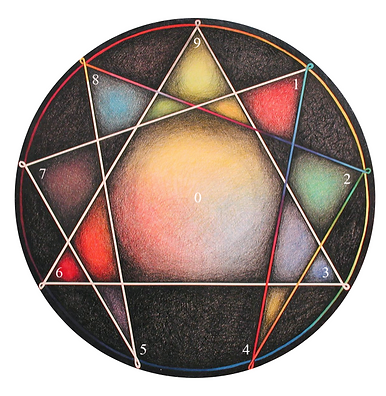 The Enneagram symbol provides us with a way of understanding and working with our internal automatic responses to life, and the longings that motivate us. In working with this symbol, we grow in knowledge of ourselves, and skill in relating to others.While it is most often used as a personality typing tool, this is only the entry point into the growth potential available in this work. Ongoing engagement with the symbol helps us grow in compassion for ourselves and provides us with guidance for inner growth.
Working with the Symbol
An introductory workshop is a good way to begin learning the layers of the Enneagram. I am pleased to offer one day in-person group training, a series of online sessions, or one-on-one consultation.
Having studied and worked with the symbol for over a decade, I've found regular small group gatherings to be one of the most effective ways to take the learning from "head knowledge" into practical living. Hearing others' stories of their experiences with the various "flavours" of energy helps us become more familiar with our own patterns, and the choices we can make toward growth.
Please contact me if you are interested in the next presentation of the Introduction or in an upcoming study group.
I would also be happy to facilitate a series for your workplace or already-formed intentional group, either in person or online, with the frequency to be determined by the needs of your group.